DUTCH

BREDE SCHOOL DE WIKEN

2005

Implemented,

recent photographs will be forwarded

Commissioned by the Municipality of Smallingerland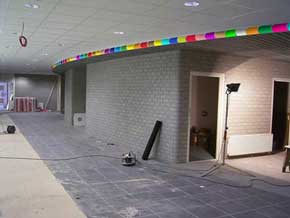 A 30-metre-long line of light that reacts to movement
Two different schools, a day-care centre, social work, a health centre for babies, a gym and a playgroup. This building houses a wide variety of users.

In their own way, each of these users will imbue this as-yet neutral building with colour.

A colourful, light-emitting line has been attached to a circle that runs from the 'central street'.
The colours appear whenever visitors or users move through the hall. More activity means more colour.
Infrared sensors have been fixed to the ceiling along the entire line of light.
Whenever movement is detected, these sensors will trigger the colours. When the space is still, all the colours will gradually disappear.